Galati picked up two important wins during the past MOL League match week as the Romanian team is hoping to stay with the pack and slip into the playoffs. One the biggest reasons was for the two wins was Phil Bushbacher, a power forward who finished the two games with four goal and an assist including an overtime game winner. This is why he is this week's Player of the Week.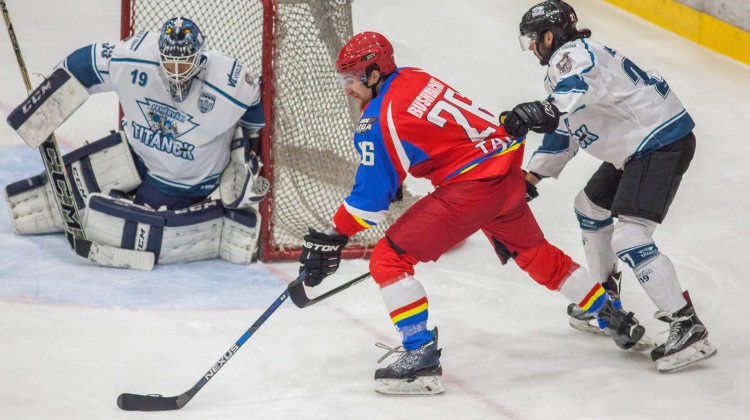 Phil Bushbacher comes from the Chicago, he played junior hockey in the OJHL before playing NCAA DIII hockey where he played at Lake Forest College and after transferring, at Lawrence University. After graduation he spent two seasons bouncing around various minor leagues such as the CHL, SPHL and the ECHL. Last season was his first one in Europe when he signed with Dunaújváros but was sold right at the transfer deadline to UTE. During the summer he signed with new MOL League team Dunarea Galati. Phil was nice enough to answer questions as he is traveling with the team on a road trip.
What was the biggest reason for the success that Galati had during the past MOL League match week?
Our team is a resilient one, we work hard regardless of the score, and try and make plays happen. In the game against DAB, we kept on being focused on forcing overtime, and we were rewarded with the win. The game against Fehérvár was similar, we kept our foot on the gas, and came out on top. We also have had some exceptional goaltending from Lakosil.
How would you describe the style of game you play and how does that fit to what is played in the MOL League?
I like to play a power forward style of game. I just try and keep my game simple, and focus on getting pucks to the net, and going to the crease for rebounds. The MOL League is a fast league, with a lot of quality defenders, and goalies, I think that you need to make quick decisions to have success. The pace of the league, and the skill, has increased from last season, and I think that makes simple hockey even more of a focal point.
What was the reason you decided to sign with Dunarea Galati in the offseason?
I had been talking to the club about my citizenship process, and it seemed like a great opportunity to continue my career in Europe to come here. With the combination of the MOL League, and Romanian League, I knew that I would get a chance to play a lot of hockey as well. Lastly, the team's participation in the Continental Cup was also a big bonus for me.
It is not common that players from the NCAA D3 are able to make a living playing pro hockey but what do these players bring to the table?
As an NCAA D3 guy, it is a great opportunity to play the game at the professional level. Most of us that pursue careers in professional hockey have an extremely hard time finding jobs in reputable leagues abroad, and have to play domestically at the Single-A level to prove ourselves. I think that Division 3 guys have a different appreciation for the game. We didn't play at big name programs, or get athletic scholarships, but we still dedicate ourselves to improving our game. Playing at that level gives a lot of us some extra motivation to prove that we can compete with D1 and Major Junior players.
You know Shannon Szabados, arguably the top female hockey player in the world very well, what has it been like to work with her?
Shannon is an elite goaltender, and wonderful person. She has tremendous knowledge of the game, and is one of the quickest goaltenders I have had the privilege to work with in my career. Just being around a person like that who is so accomplished in the game is a great learning experience, and I am always looking to take some insights from her vast hockey experiences.