For the next step in the preparation process for the upcoming 2018 DIvision 1/A World Championships that will be held in Budapest, Jarmo Tolvanen will be starting off with 34 players. The Hungarian senior national team will be playing against Kazakhstan, Italy and Poland in Katowice between February 16th through the 18th.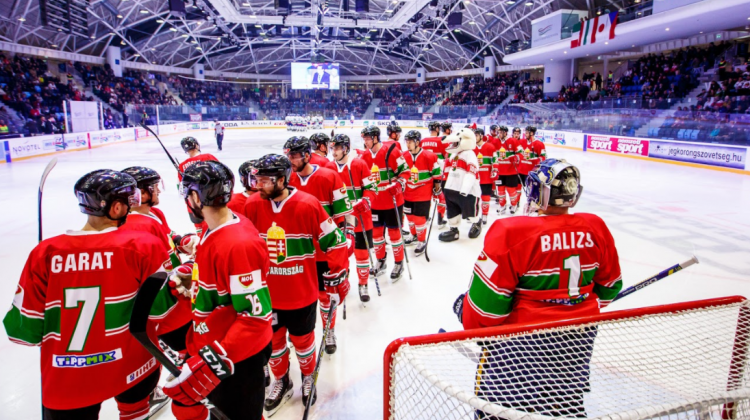 Head coach Jarmo Tolvanen and his coaching staff have invited 4 goalies, 12 defencemen and 18 forwards for a total of 34 players for the camp that will precede the tournament. The camp will be held in the Tüskecsarnok from the 13th to the 14th, the traveling roster will be cut down to 2 goalies 10 defencemen and 15 forwards who will leave with the team on the 15th to Poland.
There are 5 Hungarian teams represented on the roster with three players coming from Austria and one each from Germany and Slovakia. Balázs Sebők and Vilmos Galló will not be able to attend because of club commitments and Bence Szirányi is recovering from an injury. None of the Hungarians playing in the United States will be able attend as well. There are 17 players from last years World Championship team on this roster.
A total of four players, goalie Bence Kiss, defencemen Gellért Hruby and Nilan and forward René Léránt have the chance to make their Hungarian national team debut during the tournament.
The players will be split into two teams and practice separately twice on Tuesday and once on Wednesday with the two teams playing a scrimmage in the afternoon. After the scrimmage the final roster will be cut.
Schedule
HUNGARY-Kazakhstan, Friday 16:30
HUNGARY-Italy, Saturday 16:30
HUNGARY-Poland, Sunday 19:15
Roster

| | | |
| --- | --- | --- |
| Name | Pos | Club |
| Bálizs Bence | G | MAC Budapest |
| Duschek Dávid | G | Dunaújvárosi Acélbikák |
| Kiss Bence | G | DVTK Jegesmedvék |
| Rajna Miklós | G | Fehérvár AV19 |
| | | |
| Dudás Jesse | D | MAC Budapest |
| Garát Zsombor | D | MAC Budapest |
| Hruby Gellért | D | Dunaújvárosi Acélbikák |
| Kiss Dániel | D | UTE |
| Láda Balázs | D | DVTK Jegesmedvék |
| Nagy Nilan | D | UTE |
| Pozsgai Tamás | D | MAC Budapest |
| Stipsicz Bence | D | Fehérvár AV19 |
| Szabó Dániel | D | Fehérvár AV19 |
| Varga Arnold | D | UTE |
| Vojtkó Mátyás | D | DVTK Jegesmedvék |
| Wehrs Kevin | D | HC TWK Innsbruck (AUT) |
| | | |
| Bartalis István | F | Schwenninger Wild WIngs (GER) |
| Benk András | F | UTE |
| Bodó Christopher | F | MAC Budapest |
| Csányi Karol | F | HK Nitra (SVK) |
| Dansereau Keegan | F | MAC Budapest |
| Erdély Csanád | F | Fehérvár AV19 |
| Galanisz Nikandrosz | F | DVTK Jegesmedvék |
| Hári János | F | Fehérvár AV19 |
| Kóger Dániel | F | Fehérvár AV19 |
| Léránt René | F | Dunaújvársi Acélbikák |
| Magosi Bálint | F | DVTK Jegesmedvék |
| Miskolczi Márk | F | DVTK Jegesmedvék |
| Nagy Krisztián | F | MAC Budapest |
| Sarauer Andrew | F | Villacher SV (AUT) |
| Sárpátki Tamás | F | Fehérvár AV19 |
| Sofron István | F | Villacher SV (AUT) |
| Vas János | F | DVTK Jegesmedvék |
| Vincze Péter | F | Fehérvár AV19 |
| | | |
| Jarmo Tolvanen | | Head Coach |
| Majoross Gergely | | Assistant Coach |
| Szilassy Zoltán | | Assistant Coach |
| Farkas Tamás | | Goalie Coach |
| Dr. Majzik Ernő | | Doctor |
| Bagonya Imre | | Physio |
| Sashalmi Tamás | | Physio |
| Nagy József | | Equipment Manager |
| Tornyi Gábor | | Equipment Manager |
| Imre Lajos | | Team Manager |
| Szilágyi Levente | | Team Manager |
| Závodszky Szabolcs | | Media Manager |