There were three new players added to the national team roster for the 4 Nations Tournament in Norway.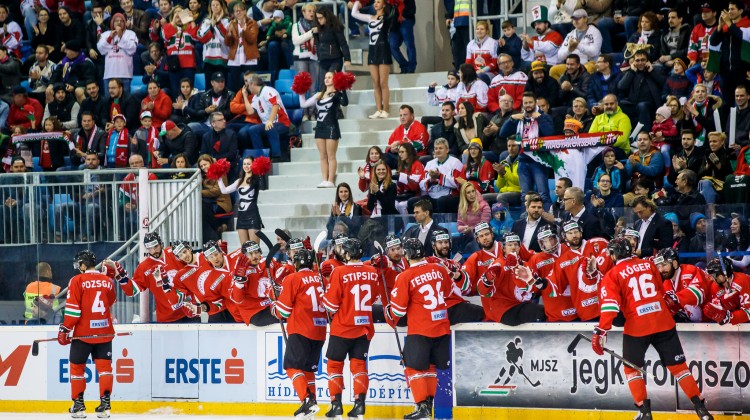 Dániel Kóger, Bálint Magosi and Gergő Nagy will not be able to take part in tournament during the upcoming international break because of injuries. Taking there place will be UTE forward András Benk, Csíkszereda forward Tihamér Becze and Attila Németh from DEAC
Benk has represented Hungary at 10 World Championships and has over 130 national team games on his resume. He was on two teams that promoted to the A-Pool and participated in two A-Pool World Championships. The UTE forward is at a point per game in the ERSTE Liga.
Tihamér Becze will be making his national team debut, he represented Romania at three senior World Championships, but has played the previous four seasons in Hungary and is now eligible to represent Hungary at IIHF events. Becze is currently second in the ERSTE Liga in points and assists.
Attila Németh made his national team debut during the 2013-14 campaign, had a good showing this past spring when Hungary was preparing for the World Championships, with two goals in two game. In total over the past five seasons he has played for Hungary 10 times. This season in the ERSTE Liga he is above a point a game.
Schedule:
December 13th, 16:00: HUNGARY-France
December 14th, 20:00: HUNGARY-Norway
December 15th, 12:00: HUNGARY-Belarus


Roster
| | | | |
| --- | --- | --- | --- |
| Hetényi | Zoltán | G | DEAC |
| Vay | Ádám | G | DVTK |
| | | | |
| Dudás | Jesse | D | MAC |
| Gőz | Balázs | D | DVTK |
| Kiss | Dániel | D | DVTK |
| Pozsgai | Tamás | D | MAC |
| Stipsicz | Bence | D | Fehérvár AV19 |
| Szabó | Dániel | D | Fehérvár AV19 |
| Szirányi | Bence | D | DVTK |
| Varga | Arnold | D | UTE |
| Vokla | Roland | D | MAC |
| | | | |
| Becze | Tihamér | F | SC Csíkszereda |
| Benk | András | F | UTE |
| Bodó | Christopher | F | MAC |
| Erdély | Csanád | F | Fehérvár AV19 |
| Galló | Vilmos | F | Timra (SWE) |
| Hári | János | F | Fehérvár AV19 |
| Miskolczi | Márk | F | DVTK |
| Németh | Attila | F | DEAC |
| Reisz | Áron | F | Fehérvár AV19 |
| Sarauer | Andrew | F | Fehérvár AV19 |
| Sárpátki | Tamás | F | Fehérvár AV19 |
| Somogyi | Balázs | F | DVTK |
| Szabó | Krisztián | F | Fehérvár AV19 |
| Terbócs | István | F | MAC |
| Vas | János | F | DVTK |
Staff
| | | | |
| --- | --- | --- | --- |
| Tolvanen | Jarmo | | Head Coach |
| Majoross | Gergely | | Assistant Coach |
| Szilassy | Zoltán | | Assistant Coach |
| Farkas | Tamás | | Goalie Coach |
| Majzik | Ernő | | Team Doctor |
| Sashalmi | Tamás | | Physio |
| Nagy | József | | Equipment Manager |
| Imre | Lajos | | Team Manager |
| Szilágyi | Levente | | Team Manager |
| Závodszky | Szabolcs | | Media Manager |